I am a creature of habit but I will also jump at any chance at last minute or planned-ahead adventures.  So with the exception of the few months during the dead of winter when I tend to fall into a pretty steady routine, my weekends can vary pretty greatly.  But adventures aside, there are a bunch of things I do on the weekends to make sure my weekdays are pretty healthy.  Check out this list of things I do on the weekends to stay healthy all week long.
1. Exercise!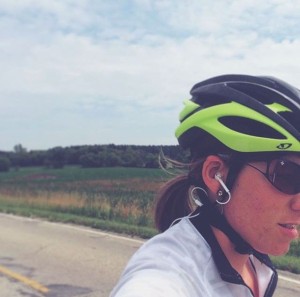 I like to spend as much of my weekend outdoors, usually riding bikes or hiking. Even during the colder months I try to do something outside such as skiing, or snowshoeing or just plain old hiking if there's not enough snow. Everyone's schedules and circumstances are a little different, but try to get at least an hour or two of exercise in over the weekend.
When I am properly exercised on the weekends (or really any day of the week), I sleep better at night and it also helps me work through and process any stress I may be dealing with. There's just nothing like fresh air to wear you out and calm your nerves!
2. Laundry, chores, general organization
I try to keep up with dishes and house cleaning during the week, but in reality, some weeks (okay, most weekds!)  just get a little crazy. As clean and organized as I may start the week, by the end of the week my closet has exploded into my bedroom and the little bit of kitchen counter space I have is covered in dishes.
Starting the week with a (relatively) clean house and fresh laundry is the perfect way to start the week. Everything is in its place so you don't have to scramble on Monday morning to find your work clothes, running shoes, ear buds, etc.
I typically do most of my cleaning right when I wake up on Saturday or Sunday morning. I prefer to do laundry later on Sunday after weekend adventures have wrapped up. Folding and putting clothes away right away is key, so that you don't have to dig through clothes baskets of wrinkly clothes later in the week. Bonus points if you lay out your clothes for the next day right away.
I also try to keep up with dishes especially after meal prepping and cooking for the week.
3. Grocery shopping
I try to avoid the grocery stores on Saturdays when they tend to be pretty crazy, but every weekend somewhere between Friday night and Sunday afternoon I'll hit up the grocery store to stock up on goods for the week. I tend to do two big shopping trips a month, so every other week is just a quick stop to load up on fresh produce and maybe a couple other things I have run out of during the week.
4. Meal prep
Every weeken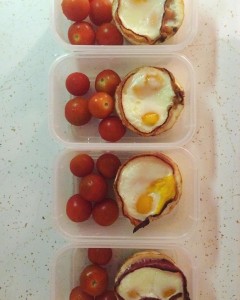 d is a little different for me, but at some point over the weekend, I spend a little time prepping breakfasts for the week (since I eat at work most days, this might be lunch and/or dinner for you dependin
g on your work schedule), portioning out snacks, and cooking any batch meals I have planned for the week, which usually includes my slow cooker. I strongly recommend to chop veggies and get as much meal prep done right when you get home from the grocery store. The longer fresh veggies sit in your fridge before prepping them for snacks or salads, the more likely they end up going bad and being thrown away.
I stay on track towards my health and fitness goals better (and feel better!) when I have my meals prepped and planned.  Another added bonus is saving money on food when I'm out and about because I have snacks that are ready to grab and go and meals ready to be heated up at home.
5. Put everything I need for tomorrow into a tote bag.
Every work night, I gather everything I need for the next day.  I have a specific tote bag (or backpack if I'm riding to work) that I take with me during the workweek. Any work I took home goes right back in the bag so
I don't forget to bring it back; if  it's a lifting day I make sure to put workout clothes, shoes, ear buds, etc., in the bag; as well as any food I need that doesn't have to be refrigerated. Anything that does need to be refrigerated gets grouped together in the fridge so I can easily grab it in the morning and toss in my bag (or a lunch cooler which also gets tossed in the tote).
6. Start your nightly routine a little early on Sunday.
I always try to get into bed a little early on Sunday nights. It doesn't always work out this way for me- some Sundays I am having too much fun outside.  But it's a relaxing way for me to start the week when I can spend a little extra time reading before lights out.
I'm no clean freak, but there's nothing more relaxing after an active weekend than having dishes and laundry clean and put away, knowing what my meals for the week are with peace of mind knowing that some of all of it just has to be heated up, and having time to read a couple pages of whatever book I'm reading before bed.
What do you do on the weekends that help you stay healthy during the week?