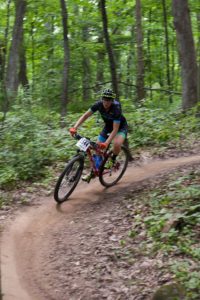 I had a piss poor mountain bike race this weekend. I started to feel seriously in over my head in the last couple hours leading up to the race and unfortunately I let some of that self-doubt effect my race.
A couple of very good friends reminded me before the race that it's important to push outside your comfort zone. That's the only way to get stronger no matter what it is you're trying to improve on. After a bit of wallowing in self-pity after the race I came up with these takeaways:
1. Focus on the positive. Even though the race didn't go well, I really liked the course and I feel it suits my strengths. As I ride there more and more I know I can race well there in the future. I also had a decent start which is usually not the case for me, and the weekend as a whole was awesome. It's really hard to complain about spending a weekend camping and riding bikes with friends, even if 2 hours of it didn't go as planned.
2. Identify your weaknesses. I know that my fitness is decent right now but my technical ability is still lacking. I have been riding and racing bikes for 10+ years but only started mountain biking regularly almost 2 years ago. It's going to take more trail time to get to the same level as the ladies I want to compete against. Using this and other knowledge gained from the weekend, I can adjust my training going forward to address my weaknesses.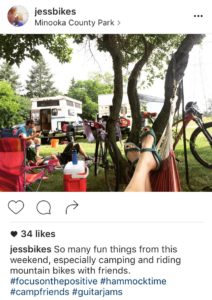 3. Keep sight of the big picture. Taking a step back and looking at the big picture, mountain bike racing is fun but it isn't my main racing discipline.  Mountain biking is a fun way for me to improve my technical ability for cyclocross and to test and build fitness during the months leading up to cyclocross season. In order to improve my technical skills for mountain biking, I need to continue to mix in a variety of technical trails with the trails that I am most comfortable on.
Stepping out of your comfort zone does not always yield happy results. But it's important to learn from each new experience and keep pushing forward.