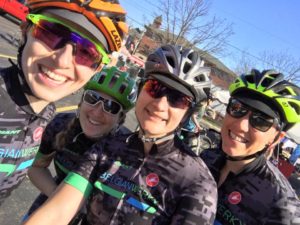 Saturday April 16 was my second Barry Roubaix at the 36 mile distance.  It is the supposedly the largest gravel road race in the world taking place in Hastings, MI. There are three distances, 22-, 36-, and 63-milers, and it is also known as the Killer Gravel Road Race.
What a difference it was from last year! Wearing alltheclothes at last year's race with the temperature at the start under 20 degrees, to just shorts and a jersey- and sunscreen!- this year was a very welcome change.  The house we stayed in for the weekend was closer too, so I was able to enjoy a 12 mile warm up ride to the race with a couple friends who were housemates for the weekend.  With the nice weather and everyone in the house having done the race at least once before, the atmosphere in the house and before the start of the race was much more relaxed.
Last year I finished in 2:15 and 9th in my age group.  I was hoping for a higher place finish this year, but I couldn't control who showed up and how they trained. So instead of setting a goal for certain place finish, I set my goal to shave some time off and finish faster than last year, preferably as close to 2 hours as possible.  I lost a lot of training in February due to illness and back problems, so I was unsure if my training was actually enough to achieve my goal. But if I went as hard as I could and laid it all out there, I would not be disappointed with whatever my finish time turned out to be.
As with last year, I knew that the start would be much like a cyclocross race, but the "hole shot" in this race is actually catching slower racers from previous waves who tend to clog up the road, especially on the hills.  I needed to stage close to the front to improve my chances of doing well, but when it came time to line up, chaos ensued and I let too many girls get in front of me so ended up 6 or 7 rows back.
When the announcer finally said GO I was able to work my way forward but we caught up to the stragglers from earlier start waves pretty quickly.  I lost the front of the women's field right around the same time.  The gravel was much looser and sandier than last year making descents and cornering pretty sketchy.  I figured out quickly to cut speed early, stay loose and hope for the best.  Luckily my handling skills proved sufficient and no skin was sacrificed in the making of this blog post.
My race strategy was to get to Sager Road, the halfway point for the 36-milers, in an hour or less which would put me closer to a 2 hour finish than last year. The infamous Sager Road is hardly a road, but more like very rutted two-track with a decent climb.  And this year there were a few sand pits to make it even more interesting.
The heat took a toll early- it may as well have been 95 degrees since the week before I was riding in 30 degrees, so I was surprised to see that I got to Sager Road in just under an hour.  But that gave me a little boost of energy to keep my head in the game.
It's amazing how a well-timed interaction can lift the spirits.  After making my way up Sager Road, a girl passed close by me and said one friendly word that got my attention to get on her wheel.  I don't remember what she said, but the timing was perfect; I was starting to go into a bad place mentally and she pulled me right out of it.  I ended up being a better climber than her so I would get ahead of her on the hills, then she would catch up to me on the descents and we would work together for a while until the next hill.  By this point I was hurting a great deal and I wanted to be finished pretty badly. I kept day dreaming about laying in the shady grass by the finish. We finished the last gravel section and I turned my effort up a couple notches and came through the finish strong.
I ended up with a finish time of 2:10, shaving 5 minutes off my time from last year which I was very satisfied with. I placed 11th in my age group. And you betcha I laid in the grass after my race!
The whole weekend was amazing thanks to great friends and teammates.  The weather and company really could not have been more perfect.  I'm already looking forward to doing it next year and hoping to finish even closer to 2 hours!
Check out more of my teammates' race reports
here
.