Success at last! I joined Anytime Fitness about a year ago. I have always been involved in some type of gym membership throughout my life. I always felt I was doing the best I could with my workouts which consisted of hours on the treadmill, elliptical or bike. I did throw in some of the weight machines  as well however never progressed to my goal of weight loss.
When I starte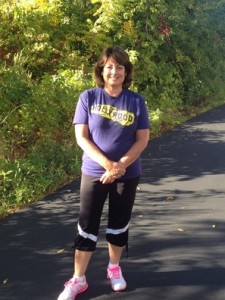 d at Anytime Fitness, I went into the same regime. Same results-basically little to no weight loss and once again long hours of unproductive work outs. I was somewhat leary of going into the weight room with all of the in shape individuals, so I avoided it.  I met with Jessica during the first month I joined for my free session. I had a trainer once or twice throughout my gym experiences but never saw a difference in my progress. So I decided to once again continue with my regime.
Finally after once again feeling frustrated and ready to throw in the towel with this work out thing I decided to have Jessica work with me. Never a believer of this whole trainer thing, I went in skeptical. Changes started to occur even after just 2 months of weight training with Jessica and discussing my meal plans. I am now working out in the weight room and the best news is that I lost 7 pounds in less than a month and am already seeing my "old lady arms" beginning to look toned. Yes, 7 pounds is just the beginning but realize I have not been able to lose 7 pounds in the last 4 years!
I am excited to continue to work on my quest to lose another 25 pounds but most of all be in the best shape I can be with great strength. So thank you to Jessica and the entire friendly group at Anytime Fitness for helping me meet my goals and begin my new life!