I am just finishing my third round of the Advocare 24 day challenge, and I am excited to report great results! Each time that I have done the 24 day challenge, I have experienced significant improvements in fitness and wellness.
After my first round, I experienced a notable increase in my fitness as I was getting into peak bike racing season last summer.  I felt stronger and more fit on my bike than I had in a few years and with substantially less training in the off-season!
Before starting my second found last fall, I had fallen off track nutritionally and had also put on some extra weight.  My focus for the second round of the challenge was to clean up my eating again to get back on track.  Mission accomplished!
For most of my adult life, I have experienced a lot of tension headaches during the winter months.  About 3 years ago I was gluten free for a few months and I couldn't remember any headaches during that time.  I had been considering going gluten free again to see if it would help my headaches, but I was having a hard time biting the bullet.  Finally after round 2 of the 24 day challenge I had the willpower to do it and I have been successfully gluten free since right before Thanksgiving.  My tension headaches have been dramatically reduced in quantity and intensity.  Right after New Years, I started my latest round of the challenge and I am down about 1% body fat from mid-December!
Since October, I have been focusing on building lean mass and overall improvement of my body composition with some changes in my strength training program.  My weight has been up, but my body composition is still in a normal range for me because I have been gaining lean mass (muscle) and losing fat.  Along with increased lean mass, I have been feeling stronger than ever! I have been working on chin ups and handstands aside from sport-specific strength gains for biking and sailing.  My goal for the rest of winter is to continue to gain muscle and strength and to lose another 2-3% body fat in time for bike racing season.   Total body weight is not important to me as long as my body composition is where it should be; my clothes fit great, and in some cases better than when my weight was lower/body fat higher, so I am happy!  I will do another round of the 24 day challenge early in the Spring to help prevent a plateau in my results.
Here's the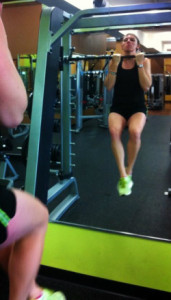 breakdown of my latest two assessments:
December 2013
Body weight: 151.25lbs
Body fat %: 18.8%
Lean mass: 122.82lbs
Fat mass: 28.44lbs
January 2014
Body weight: 150.5lbs
Body fat %: 17.7%
Lean mass: 123.86lbs
Fat mass: 26.64lbs
You can see that my total body weight didn't change very much, but gaining a pound of lean mass and losing almost 2 pounds of fat can make a big difference! The scale alone does not tell the whole story.
Besides fitting into clothing better, a few additional benefits of increased lean mass/lower body fat percentage are:
Increase in metabolism means better weight management.
Increase/restore bone density.
Boosts energy, strength and stamina.
Feel better and look better in your own skin!
If you have any questions about the 24 day challenge, or would like help improving your own body composition, send me a message!