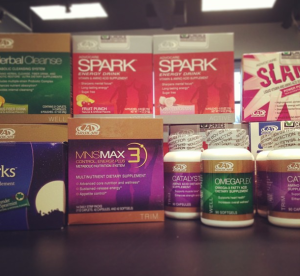 Friday was officially my last day of the Advocare 24 day challenge.  I was not doing the challenge to lose weight although I would not have complained if my body composition improved. But I have yet to do an assessment to see if there were any changes.  Honestly though, there was a good week during the challenge that I did not eat as well as I should or could have, so I think I could have lost a couple pounds if I had eaten better.  You will get what you put into the challenge; the 24 day challenge guide offers suggestions as to what to eat every day of the challenge, and if you follow it closely, you will get some great results.
Even though I wasn't eating perfectly, I still got some great results.  I had been experiencing a lot of bloating for a few months (or longer) prior to starting the challenge.  After completing the cleanse portion of the challenge which is the first 10 days of the 24 day challenge, I was not feeling bloated any more.  On a physical standpoint, after burning out from bike racing a couple years ago, I took last year off of racing completely.  This year, I started to enjoy cycling in a way that I can't say I ever did, and I also decided to try a couple races this year just to see how I could handle it mentally. I feel like I have made significant gains over the last few weeks during the challenge and feel mentally refreshed and able to train hard on the bike once again.  I even did a bike race on Saturday and it went pretty well!  (Check out my race report here.)
What I love about the challenge is that it is easy enough to do any time; it doesn't interfere with training or workouts at all.  Unlike some cleanses or resets, the Advocare 24 day challenge is a really good stepping stone towards living a healthier lifestyle, so I think it's a great way for anyone at any fitness level to get a good kick start to lose weight or break past a physical or mental plateau.  It is safe to cycle the challenge once every 90 days, and I have every intention of doing it again!