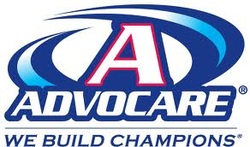 About a month ago I decided to add a supplement line to my distribution in addition to Shakeology.  My friend and co-trainer Jess Sunier of FitPower started distributing Advocare late last year, and I decided to try some of the products for myself this spring.  I was very impressed with the results!
I first tried Catalyst, an amino acid supplement that helps maintain lean mass during exercise and weight management.  I took it before every workout for about two months and boy did I notice a difference! I dropped a couple pounds from fine tuning my nutrition, and normally I would lose some muscle mass with a quicker weight loss like that.  As I dropped down in weight, my body fat percentage was dropping steadily as well.  About halfway through the bottle of Catalyst, I also started using Slam, a healthy energy drink, before workouts and I have never felt more focused during workouts before.  Most of you who know me know how ADD I am, so as important as my workouts are to me, it can be hard to focus on the task at hand when I know I have a do list waiting for me at home.  But Slam and Catalyst have changed that for me.
Advocare also works with a company called Informed Choice.  Informed choice is a quality assurance program that certifies that all nutritional supplements and/or ingredients that bear the Informed-Choice logo have been tested for banned substances by the world class sports anti-doping lab, HFL Sport Science.  As a competitive cyclist, I like to know that the supplements I take do not contain banned substances.  But it's also good for non-competitive athletes to know that they are not effectively 'doping'.
I'm also really excited to try Advocare's 24 day challenge soon.  The 24 day Challenge is a comprehensive supplementation and nutrition program to give your body the jump start it needs to help you reach your goals. There's something for everyone from weight management, energy, overall body composition or overall wellness.  Rid your body of toxins and reach the next level physically or mentally! You can see more info about the challenge here.
Feel free to browse the website here and see if there's any products that might help you meet your goals.  Or, feel free to ask me for suggestions!