Many of us were hoping to have started bootcamps by mid-March, but the weather just didn't cooperate with us this year.  But good news- we were finally able to have classes this week and had beautiful weather for 3 classes, well, except one class where it started raining halfway through.
The bootcamps are held at Anytime Fitness in Cedarburg and you DO NOT have to be a member to participate.  The current class times are:
Mondays at 8am and 4pm
Wednesdays at noon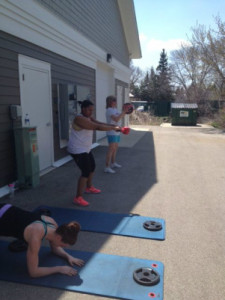 In just a couple more weeks I will be adding additional classes in the evening and earlier in the morning, and maybe even a Saturday morning class (or two!).  If you are interested in attending bootcamps but can't attend the current daytime classes, please don't hesitate to let me know what time or times of the day work best for you.  I am still deciding what times will work best for additional classes so I'd love to get input from as many people as possible! And thanks to those of you who have already expressed their interest in certain days and times.
More info:
ATF members get their first class FREE and non-members can try out a class at HALF PRICE (normal price is $12).  Members can also get a 5-, 10-, or 15-class package at a cheaper price per class.
Minimum per class is 4 people, maximum is 12 people.
In classes, you can expect to do a little bit of cardio and a little bit of strength training.  You should be able to jog for at least a couple minutes, and hold a plank for at least 15 seconds.
I try to make the class inviting for many fitness levels, so if something isn't hard enough for you, I will gladly make the exercise harder for you. 🙂  And vice versa if an exercise is too hard- don't be shy!
And for even more info, send me a message here! Thanks for reading!