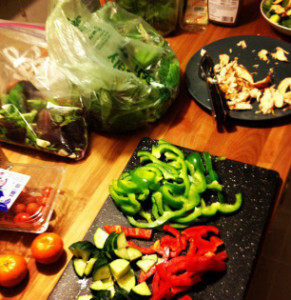 If you don't plan to SUCCEED, you plan to FAIL.  Just as with anything else in life- saving for college or retirement, planning a party, etc-  if you don't plan for things to happen a certain way, how can you expect it to happen at all? Nutrition is no different; if you want to eat well you have to plan to eat well.  Here are my tips to meal planning.
1. Surround yourself with good recipes.
Subscribe to a monthly magazine, find a good recipe blog, or whatever it is keep new and inspiring recipes coming in at a regular basis.  Try new recipes on a regular basis but it's okay to have your old favorites to fill in the rest of the time.  Consistently adding in new recipes will help keep things fresh and keep you from falling into a food rut.
2. Everyone has a 'Sunday'.
Sit down on a weekly basis with a stack of new recipes you want to try.  If you have a family, everyone should sit down together and each pick a recipe or two.  When you are picking out meals to make for the week, make sure you have your calendar close by so you can look ahead; maybe you have to work late one night so the kids/hubby will be on their own (which would be a great night for them to have leftovers to heat up!), or there will be a special occasion where dinner will be at a restaurant.
3. Make a list
Use a meal planning worksheet like this one I found on pinterest, or create your own.  Make special note of which recipes will give you leftovers which would be great for lunches the next day or a second (or third!) night of dinner.  Once you know which meals you are going to make, you can start to compare the ingredient lists with what you have in your cabinets to create your grocery list.
4. Don't forget snacks and breakfast!
Don't forget to add to your grocery list your breakfast food(s) and snacks for between meals.  Remember, you want to eat small portions every few hours to stay energized throughout the day and to keep your metabolism burning strong.
5. Go to the grocery store.
Make sure you stick to the list! Try to stay away from the inner aisles as much as possible as they contain all the processed foods.
6. Happy cooking!
Keep your meal planning worksheet handy or make a cute menu board so you always know what meal options you have during the week.  Don't be afraid to plan a second and smaller trip to the grocery store mid-week to re-stock on the fresh produce you will need so it's always fresh.
BONUS!
Here are some the recipe blogs and books that my boyfriend and I use on a regular basis.
1. http://bevcooks.com/
2. Two books we keep on hand are The Feedzone Cookbook by Velo Press which is a great book for endurance athletes, and The Rodale Whole Foods Cookbook.
3.  We also get the magazine Bon appetit  in the mail every month, and we somtimes pick up Cook's Country and Cook's Illustrated.  I especially like Cook's Country because they include 8 30-minute dinner recipe cards in the middle of every issue.