Guy started personal training just a couple weeks before Thanksgiving in 2011.  By July 2012, he was down 30lbs and had lost 6% body fat.  As of October 2012, he is still working hard and maintaining his weight.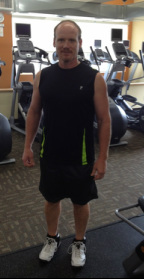 I have always been involved in some type of athletics since grade school; baseball, football, wrestling, etc. After high school, I was pretty religious about working out at the gym and stayed in pretty good shape. It was easy at the time, living at home and not many responsibilities. After I got married and started a family, the working out tapered off, and then pretty much stopped.
I would start up here and there but nothing ever lasted. The weight came on slowly, 5 pounds here, 5 pounds there, so I never really paid attention to it. I started noticing myself getting heavier in the mirror and in pictures, but I tried to convince myself that it wasn't that bad. Then more and more family members and friends started to lay down subtle hints that I could lose a couple of pounds.
Just by chance, one of the owners of the company I work for asked if I would be interested in coming to Anytime Fitness to work out with him. I really enjoyed it and thought maybe this is the right time for me to get back into the swing of working out again. I met with Jessica and we went over the goals that I had. She put me on the right path. The workouts she put together for me were prefect. The best thing was that she would incorporate routines that I never thought of, but they were very effective. I have been working with Jessica for 9 months now and have met my goal of losing 30 pounds.
Anytime Fitness makes it easy and convenient to work out, and everyone there is very friendly. Jessica, Josh & Katie have been especially helpful to me. I don't know what my next challenge will be, but I know that with the help of Jessica and Anytime Fitness, I will have the help and support to achieve it.