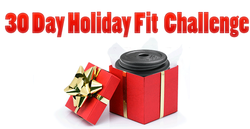 Get fit for the Holidays this year with a 30-day challenge I am hosting this November.  This will be a great way to lose some weight while most of America is gaining weight!
I have a number of options available so depending on if you are already a client of mine or just working out at the gym on your own to not working out and not a member of a gym, I'll have you covered!
The basic goals will be the same for everyone; to exercise about 4-6 days per week and eat well.  And best of all I will be there to coach you through the whole month offering exercise tips, nutrition guidelines, and motivation.
For those of you who prefer to work out at home, you can chose your own workout program such as P90X, Insanity, Turbo Jam and more.  You will also have a Shakeology per day, using it to replace your weakest meal of the day.  If you are already a client of mine, you will only have to add  Shakeology.  All participants will be invited to join a facebook group exclusively for the 30-day Holiday Fit Club.
Email me if you're interested or to get more info! j.helmlingerPT@gmail.com